First OKFnBD Program held Rajshahi University
The Open Knowledge Foundation (OKFN) is a not-for-profit organization founded in 2004 dedicated to building tools, projects and communities that promote open knowledge in all its forms. It is a leader in this field nationally and internationally. It's also a collaborative effort made up of open data and open knowledge enthusiasts around the globe led by a core team who report to a Board.
Our network's activities are organized around local working groups and collaborative projects. Each of these initiatives has a different focus, but all are united by a common set of concerns and traditions related to the widespread sharing of data and knowledge across borders between groups as varied as academics, public servants, entrepreneurs, data experts, archivists, hackers and web developers.
Ambassador, OKFN Bangladesh: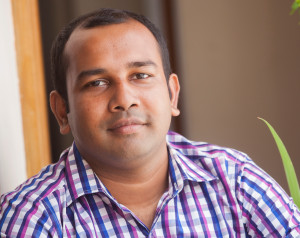 :: Nurunnaby Chowdhury ::

http://www.nhasive.com
Nurunnaby Chowdhury Hasive [নুরুন্নবী চৌধুরী হাছিব] now work as Social Media Interaction Expert & Assignment Reporter of  The Daily Prothom-Alo (Highest Circulated Bengali Newspaper). Beside that he involve with Bangla Wikipedia  as Administrator. He also involve as Treasurer & Coordinator (PR) of  Bangladesh Open Source Network (BdOSN), Moziallians of Mozilla Bangladesh Community, Central Team MOVers of Bangladesh Mathematical Olympiad Committee (BdMOC) & Coordinator (PR) of Society for the Popularization of Science, Bangladesh (SPSB). He available via mail. You may also catch via Facebook, Twitter & Skype: nhasive.