Zero to Infinity Talks Episode 8 held on 25 December at Dhaka University Microbiology Auditorium. The topic was Nuclear Energy For Electricity Generation: Bangladesh Perspective. Speaker Dr. Didarul Alam Chowdury is director of Nuclear Safety, Security and Safeguard Division, Bangladesh Atomic Energy Commission.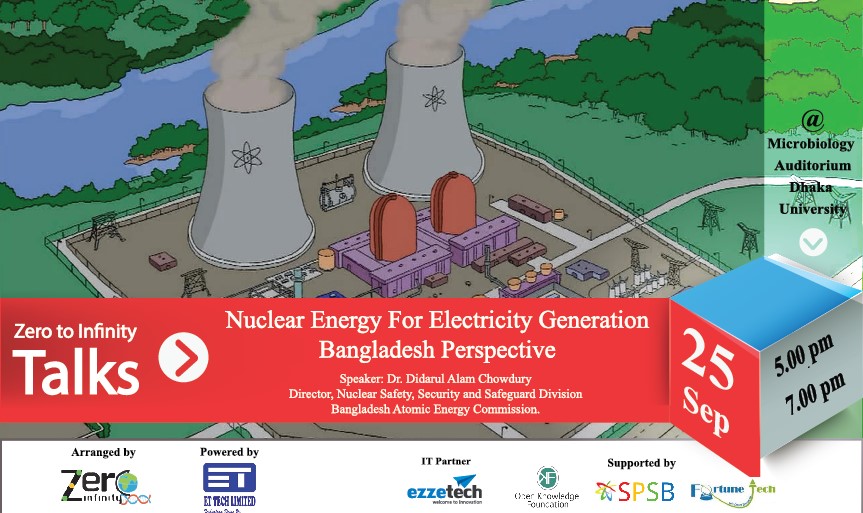 Dr. Md. Didarul Alam Chowdhury is currently the Director of Nuclear Safety, Security and Safeguards Division of Bangladesh Atomic Energy Commission (BAEC) with a long background of scientific research mainly carried out at the Institute of Nuclear Science and Technology. He received B.Sc. and M. Sc. Degrees in Chemistry from the University of Chittagong, Bangladesh. After completing his M .Sc, he joined Bangladesh Atomic Energy Commission in 1982 as a researcher. Dr. Chowdhury obtained his M. Eng. (1994) and Ph.D.(1997) degrees from the Graduate School of Engineering, Kagoshima University, Japan. He developed his research career in the areas Nuclear and Analytical Chemistry. His current research interests include Solid Phase Extraction (SPE) and nano-material deposition studies for fuel cell fabrication. Throughout his long professional career, Dr. Chowdhury supervised a large number of M. Sc. and Ph D students s and authored 46 scientific publications. He also works as a Guest Teacher and an Examiner for the Department of Environmental Sciences, Jahangirnagar University, Dhaka.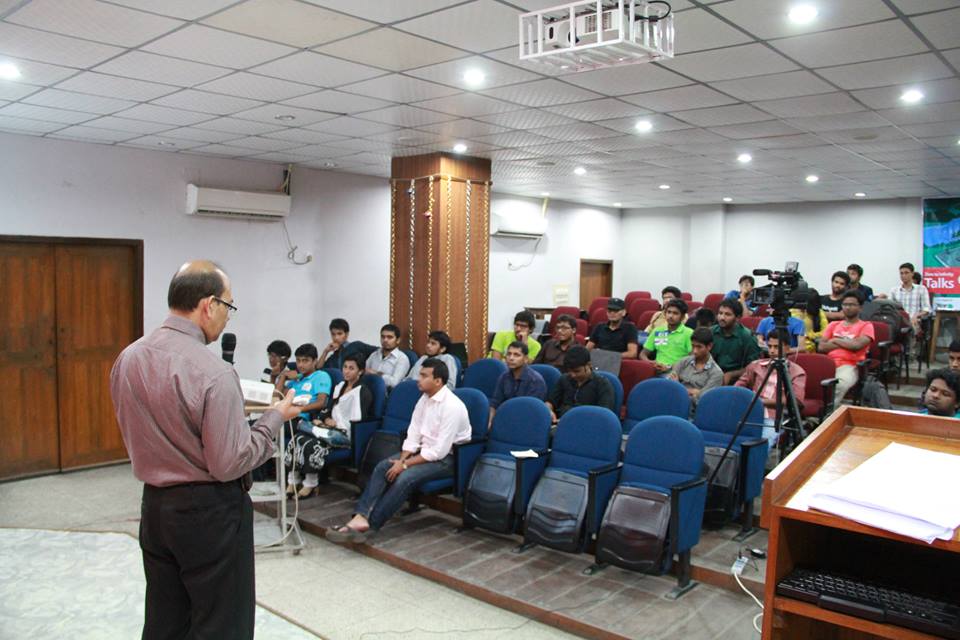 About 120 participants attended in that session.  Here is the gallery link. http://talk.zero2inf.com/flagallery/talks-gallery/#/4
'Zero to Infinity Talks' is a fortnightly lecture series arranged by monthly science magazine 'Zero to Infinity'. The Program is powered by ET Tech Limited. Inspired by Open knowledge Foundation. Other partners are Ezze Technology, Fortune Tech, and Society for Science Popularization, Bangladesh.